posted in
Affiliate Marketing
|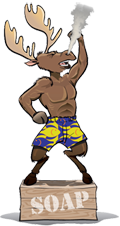 With fanfare & intrepid nature, Existem who last brought you the first ever affiliate industry awards, A4UAwards, as an integral part of the most excellent A4U Expo in the ExCeL Center, London … Boy those fish & chips did taste good … drum roll …
This year a special night has been organised for the 2008 A4UAwards formulating with an evening ceremony which will be a formal black tie event at the Sheraton Park Lane Hotel in London on June 5th. I wonder if a black tie will go well when adorned with fashionable, trend setting affiliate pyjamas. It certainly would look eclectic.
"It is apparent in this rapidly growing industry that there has, until now, not been an award ceremony that appreciates Affiliate Marketing in its entirety and for what it represents to the entire marketing mix as a whole." Mr Matt "Sotf" Wood

However, rather than forum members being permitted to vote on all the relative categories, all bar two have been left to a panel decision which is where my gripe is.
It's commendable to see lavish jolly in the pipeline to create that corporate persona with a bit of pomp & ceremony and for those attending will no doubt have a "most excellent" time like previous well organised events. A extravaganza of this sort is I guess a natural progression & evolution of the affiliate marketing industry, whereby unless you have one some blue chips & media publications don't take you seriously.
However, the forum roots is based on a community, it's the injection of opinions & discussion on a forum by the "members" which create the forum, by isolating and alienating those affiliate members with similar & contrasting opinions of the industry by denying them a vote will add minimal illustriousness or significance to the awards for the appropriate recipients. Granted there may have been some dodgy voting which had to be weeded out in the last bout, but there are better solutions which could be examined into by looking at those parties which engage on the forum rather than a stance which suggests that organisers are looking down their nose (yes singular not plural) at those members which make the forum.
Why call it a4uAwards it certainly won't be a reflection of the a4u "members", it might be appropriate to call them something else.
It's all starting to become too much sitting on the fence, political correctness & pretentiousness in some quarters. All corporate diarrhoea if you ask me. Can we nominate a Raspberry Award to this process based on the alternative awards ceremony suggestion?
Perhaps I had better put those rose tinted gl-ASS-es on to see a contrastingly different realm of everyone holding hands skipping through the daisies & buttercups on a glorious spring morning.
On a side note why London?
Yes, I agree to having this as a seperate event is a good idea, so that attendees are all refreshed & fully charged for when attendees fully charge their glasses at the event.
"We felt the awards has the potential to be its own annual summertime event, logistically its hard to organise at the a4uexpo – as you know that in itself is a huge task to manage and it lets us concentrate on the conference and networking opportunities which I promise will not dissapoint this year." Mr Matt "Sotf" Wood

So back to the voting:
Sour grapes, yep, I have kicked off my shoes & socks, rolled the trousers up my leg and I am trampling grapes with my bare footed size 12's in a massive barrel full of them. To exclude the forum members is simply wrong & the awards themselves will be relatively meaningless. As for the evening I reckon it will be a "most excellent dude" event for those making the effort to attend.
Will I be attending … I doubt it … but I do hope it's a "most excellently excellent" event for you dudes & that you enjoy yourselves … Party on!
Now, I expect to be slapped vigorously, so instead of being a happy clapper, be my guest at being a happy slapper.
It's with intrepidness I quote the following : "We shall not flag or fail. We shall go on to the end. We shall fight in France, we shall fight on the seas and oceans, we shall fight with growing confidence and growing strength in the air. We shall defend our island, whatever the cost may be. We shall fight on the beaches, we shall fight on the landing-grounds, we shall fight in the fields and in the streets, we shall fight in the hills. We shall never surrender!" – Sir Winston Churchill
And if that is a little too far back in history for you, for those who remembers Citizen Smith aka Wolfy … "Power to the People"?