posted in
A Moose's Life
,
Affiliate Marketing
|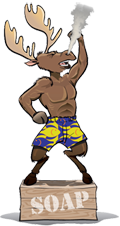 AWESOME .. EXHILARATING .. THRILLING .. LAVISH .. ADRENALIN FUELED RUSH .. are just a few words to describe what was an absolutely fantastic few days in Las Vegas, last weekend, courtesy of an incentive from Buyagift. I have to start of by saying Thank You .. Thank You .. Thank You to Graham (call sign "Puke") & Dan (call sign "Whirly Sprinkler"). Even though I served in the Royal Air Force until 1992, having the opportunity to actually fly & take control of a Fighter Aircraft, has always been a dream since my childhood, by pushing the envelope of my normally modest comfort zones, pulling positive G's of between 3 to 4.6 whilst Dog Fighting over the Nevada Desert in scorching heats of 108 degrees, was an experience I 'll always remember with excitement. Even since returning last Tuesday & quite jet lagged, I am still buzzing.
Like those who were some of the lucky attendees / winners from last year to Las Vegas, we thought it couldn't be beaten, but Buyagift surpassed those high levels of expectations once again.
The Outbound Journey : The Boneshaker : Morning : Friday 16th May
We all met at Gatwick Airport on Friday morning & departed on one of the traditional bone shakers which Virgin Atlantic Airways operate, because the flight wasn't full, we managed to spread ourselves out over a few treble & quadruple seats enroute to recoup as much shut eye as possible to charge the batteries (I don't do mornings) for the few days ahead. Landing was a little turbulent, imho synonymous with Virgin Atlantic & as for the pilot, I think any of us privileged affiliates possibly could have mastered a slightly smoother approach & landing with a High Yoyo (HYY) & a Low Yoyo (LYY) to throw into the mix.
Airport Transfer to hotel was in some kind of beefed up / pimped stretched Limo type bio fuel bus, called Earthbuses. With music pumping, leather seats, booze onboard, neon/disco lights & LCD TV. These Executive & VIP Limousine Buses are really comfortable with room for up to 25 passengers, which are ideal for large corporate events, airport transport, and nights on the town. The vehicles run on bio diesel and produce ultra-low emissions, their sales pitch is something along the lines of being committed to style & service whilst saving the earth. These little trimmings & indulgences Buyagift generously afford adds to the enjoyment and reduce our own carbon footprint (well sort of).
http://www.earthbuses.com/images/fordreserve.jpg
It's the only way to travel in style for the short journey to our hotel, no other than the lavish Luxor Hotel and Casino on the famous 'Strip' in the heart of Las Vegas. For myself who is quite interested in Egyptology, this was quite a befitting theme for a superb weekend. A marvel of modern construction, the iconic pyramid of Luxor Hotel & Casino climbs 350 feet into the desert sky containing an enormous 29 million cubic feet of space and is crowned with the world's brightest beam of light. Within the soaring walls of the great pyramid, more than 2,200 Deluxe Rooms overlook a spectacular and expansive atrium. An incredible thirteen 747 Jumbo Jets can fit inside the Luxor's stunning Atrium
http://www.cnrc.navy.mil/sandiego/las_vegas1.jpg
Lap of Luxury : Sapphires Gentlemen's Club : Evening : Friday 16th May
After a quick freshening up, it was a quiet, gentle & relaxed winding into the weekend at Sapphires Gentlemen's Club. Apparently it's the world's largest gentlemen's club, featuring some 70,000 square feet of topless entertainment and serving variety of cocktails, wines, champagnes and cigars. We were told there was apparently at least 100-150 topless laptop dancers there. We can neither confirm nor deny

… plausible deniability …

… I think we rolled in about 5am, but really nobody was keeping time.
http://www.sapphirelasvegas.com/grfx/header.jpg
Mexican Standoff at The Gun Store : Lunchtime : Saturday 17th May
A last minute addition to itinerary was a visit to the indoor shooting range at The Gun Store which is a full service gun shop specializing in self-defence security & police equipment with a massive arsenal of varied handgun & sub-machine guns available to shoot. It was MAD (Mutual Assured Destruction) with 10 of us plus instructors in a confined space firing an assortment of live firearms in quick succession, something I haven't done for quite a few years, it was organised & well drilled chaos. But you can't help thinking that it could be relatively easy for an accident to happen i.e. if someone didn't keep there weapon pointed down tin can alley or some unbalanced individual decided to liberally spray bullets in all directions, though with the number of instructors there, they would have pounced on any culprit fairly quickly. I guess it's little surreal for the uninitiated, but it was a certainly different & fun start to the day.
Apparently they turnover $50k a day with a high ROI, when you see the continuous queues & rapid turn around of gunslingers it's not surprising the place is making an absolute mint.
http://www.blackdossier.net/users/m-a-images/The-Gun-Store-Las-Vegas-sign.jpg
Days of Thunder: Afternoon & Evening : Saturday 17th May
The Indy Car USA Track in Las Vegas is known as the 'Diamond in the Desert'
Originally, I wasn't really into driving sports or racing cars, until the baptism of fire from last years incentive with Buyagift when we were driving sports cars in the Nevada desert & I started watching the TV program BBC Top Gear, even now after doing relatively well in affiliate marketing over the years, my personal car is only a family Toyota Previa (which I am quite happy with), so I am not really into owning flash cars or yatchs. Indy Car racing proved to be a whole new world of driving enjoyment.
The sheer scale of the place shocks and puts most venues in the shade. It boasts not one but two road circuits, a dirt track, kart circuit and motocross facility as well as the main 1.5 mile oval speedway.
Obviously our focus was on the oval when we took the challenge of the Indy Car Experience where oval racing is a unique discipline and not for the faint of heart. The speeds achieved are extraordinary and the racing takes place just inches from the perimeter wall.
With the short briefing over and safety kit on, we took to the track. After the obligatory recce laps in a road car you get strapped into the racer. Fire-up the engine and, even within this vast complex, the sound is simply fantastic. Master the correct line and you will quickly be able to build your speed. With massive downforce, super sticky slicks and 12 degree banking you can expect some fairly serious g in the corners. The purpose built 650 bhp Indy cars can quite easily achieve fast-paced action of up to 200 mph on the Las Vegas Oval … Crikey.
I think most of us got to about 146 to 149 mph as we chased the lead car having to stay within only 4 to 6 car lengths if we wanted to go faster. Doing these speeds on a flat motorway would be quite easily achieved I guess (not that I have tried), but doing on a race track is a whole new thrill.
I only wished there was an onboard camera to record the event so that we could all relive our experience. It was again another very hot day, but by the time most of us got to ride, the sun had set over the back of the main stadium so that we wouldn't swelter in our dashing racing suits & helmets as we completed about 6 laps of the circuit. Even though we had a brief initial tuition it was pretty much hands on as you played yourself in, realise your limitations, and then really savour the scintillating experience as you raced around the track, it was absolutely brilliant.
An almost ideal way to get the juices flowing for a night on the town in LV, for me the perfect day was to come.
Early Night
For the following day to keep the adrenalin pumping we were going to be flying 'air combat dog fighting' missions in a fully aerobatic Marchetti fighter aircraft high above the Nevada desert. We were going to be split into two groups. The earlier one meeting at 7am the following morning, yep, anyone who knows me knows that I burn the midnight oil (a natural body clock) and I don't do mornings, so I was in the early bird group, thus I was tucked up in bed by about midnight after a light dinner with no intention of breakfast in the morning.
Top Gun : AIR COMBAT USA : Sunday 18th May : Some Unearthly Hour in The Morning
"I feel the need, the need for speed". Even though I served in the Royal Air Force until 1992, having the opportunity to actually fly & take control of a Fighter Aircraft, has always been a childhood dream, by pushing the envelope of my normally modest comfort zones, pulling positive G's of between 3 to 4.8 whilst Dog Fighting over the Nevada Desert in scorching heats of 108 degrees, was an experience I 'll always remember with excitement.
"Picture yourself strapped into your fighter aircraft, high above the Nevada, when suddenly out of the sun comes a bandit. Sweeping into a banked roll you come round on his tail, line him up in your gunsight and let him have it! A trail of smoke appears to signify your hit – victory is yours! This is Air Combat USA? – a unique chance to be a Fighter Pilot for the Day!."
The Air Combat USA program allows civilians (either pilots or non-pilots) to experience the exciting adrenalin rush of the Dogfight in real military trainer prop aircraft all under the expert guidance of professional instructor pilots. My instructor was Jim "Bogey" Reed who received his BS from the USAF Academy in 1972. During his 30-year career in the Air Force, he flew a variety of aircraft including the F-4, OV-10, and F-15, amassing over 5,000 hours of tactical flying experience. Receiving the Distinguished Flying Cross as a squadron commander during Desert Storm, his unit was credited with 6 aircraft kills. Before coming to Air Combat USA, he was an air combat instructor in the T-34A with Sky Fighters.
On arrival we were kitted out with our own personal flight suit, we had the pre-mission ground school briefing on format of the course, safety and tactics, prior to the one hour of flying with formation flying, practice manoeuvres and six dogfights followed by a mission debrief and gun camera review. Oh, and incase of "Bail, Bail, Bail" we were told of when the canopy jetisons on how to climb onto the wing & fall low off the trailing edge below the rear stabliser & rudder.
Each "pilot" then picks his opponent from the group and throws down the gauntlet with the challenge of an aerial Dogfight!, full theatrics are of course encouraged, I "Moose" (call sign) challenged Graham "Puke" Keen who was going to "crash & burn"
The aircraft used for the mission was an Italian built Marchetti SF260's specially modified for the purpose. Each aircraft is equipped with modern safety harnesses, rapid deployment parachutes and special equipment for the Dogfight including laser weapon systems fitted to underwing pods, gunsights and three video cameras which record all the action and "kills" on video tape. Originally designed to transition pilots to jet fighters, they have a stick grip and gun trigger identical to the F4 Phantom.
Upon boarding your aircraft you are given a final safety and cockpit briefing and without further ado you are strapped into the aircraft and the mission begins! Once airborne the instructor pilot gives you time to acclimatise with level flight and a series of gentle manoeuvres to assess your comfort levels.
This is very much hands-on so once in the air you do 90% of the flying! Working with your pilot you'll used canny tactics and teamwork to out-manoeuvre your opponent and get him within your gun-sights. With the aircraft able to pull an incredible +6g and –3g you'll need to focus hard on first sighting the enemy then pre-empt their every move before arming your weapons system and going for the kill.
You can't run out of bullets so you can get totally trigger-happy if that pleased you. A direct hit will register with real to life sound effects and a dramatic trail of smoke trailing from the other aircraft (whioch looked great on the debrief & souvenir video. The whole thing is an intense and uniquely exhilarating experience!
During the course of your flight we learned a series of air combat manoeuvres including – High and low Yo-Yos, Lead, lag and pure pursuit – Gunsight tracking & Physiological effects of "G" Force … HOOK !!! … HOOK !!! … HOOK !!!
Unfortunately for Graham it was like shooting fish in a barrel as he was blown out of the sky, I get quite bad motion sickness, hence not having breakfast, by nauseous moment (white bag time) was on negative g's, though there was no follow through by praying to Hugh, thus no loss of points nor any spillage.
Once back on terra firma we had the opportunity to study the video footage to see where it all went right or wrong. The video we got to keep! So once this is reformatted I'll get it on the blog. When you run your opponents video footage with yours side by side on split screen it was exciting to watch. It is the ideal way to relive what for me was the experience & thrill of a lifetime. Being the first to go out, I hanged about for the rest of the day, seeing how the other guys got on & the joy of their reactions.
It was a great pulling positive & negative G's all weekend, but the biggest G is G for Graham from Buya"G"ift & big boss Dan. Thank you both for a fantastic few days. Now I know what the "G" in Buyagift stands for. Not just "G"raham but also the G's from the experience we had.
The Nightclub Tour : Sunday 18th May : Evening
To wrap up the tour of Las Vegas, we enjoyed a tour of the nightclubs with limo transfers & VIP admission to some of the top clubs and all in one remarkable night. Our first stop was the Mandalay Bay Hotel & Casino next door, with a glass elevator all the way up to the sixty something floor, with a fantastic view over Las Vegas.
Other clubs we went to were
Body English – Arguably, the new 'daddy' on the Las Vegas Club scene, Body English at the hard Rock evoked the image of a rock star's English country mansion complete with leather Chesterfield sofas, acres of gilded mirrors and crystal chandeliers. Opulent and decadent – just what you would expect.
Tabu – Located at the MGM Grand, Tabu is a decent new 'ultra-lounges'. It strikes a good balance between chill out lounge and happening club. Sumptuous décor, fashionable crowd and gorgeous waitresses combine to make a pleasant.
CatHouse – is an upscale 'uber-lounge' based on a French 19th century Bordello which manages to remain intimate and uniquely provocative. Two styles of music with two separate DJ's juxtapose tastes in different areas within CatHouse. Dancing, not restricted to a dance floor, is encouraged throughout the 'loungerie', with lingerie clad performers enticing participation.
I think we strolled back to our hotel about 6am, after wisely leaving one of the other hotels before someone else got thrown in jail, I dunno, whatever ever happened to liberally sprinklings of enjoyment, whatever happens in Vegas stays in Vegas

But that is another discussion saved for the bar & not on a public blog, boys will be boys!
No apologies for a long blog post, as this was something I personally wanted to document for posterity as a truly tremendous few days. I will populate this blog with a few photos a bit later.
Many thanks once again to Graham & Dan from Buyagift.